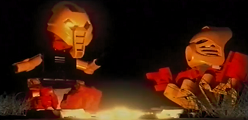 Have you ever wished you could watch MORE Bionicle videos? Well guess what: we've got more Bionicle videos. Like, 210 or so more videos, to be exact – both G1 and G2. It's part of a pretty big refresh for our streaming video archive – we hope you'll enjoy! You can check it out for yourself on the videos page. Or read on for a full list of additions:
CONTENT ADDED 11/21/17
Internal/Concept Videos

Turaga Files videos

Turaga Files Teaser
Turaga Files Video 1
Sketches from Turaga Beach
Memories from Turaga Beach
Mata Nui Earth Run

"Infected Lewa" video of unknown origin, via BricksofSteel
2003 Style Guide video
2008 Retailer Video

Promo CD Videos

Summary from the Powerpack
Toa Nuva CD video, via Toatapio Nuva

Contests
Designer Videos
Concept Art Timelapses
Miscellaneous

Bionicle Segment on KB-Legonaut
Bohrok Awake Trading Card Game Demo
Bionicle Segment on Galileo, via BricksofSteel
NYCC Booth Teaser
Technic vs Bionicle
The Build Zone – Tahu & Mask Maker vs Skull Grinder
Misadventures of Brickbeard

Character Videos

Masters
Skull Army
Uniters
Elemental Beasts

Web Animation

Battle Videos compilation (in HD!) via the creator, Patrick Boivin
Power Up shorts
2015 and 2016 webisodes (The BIONICLE Story)

Short Movies

Prerelease version of Creeps from the Deep
Creeps from the Deep trailer, via BricksofSteel
Prerelease version of the Mahri short
Individual Mistika episodes, via BricksofSteel

Movies and Series

The Legend Lives German VHS tape, via Toa nuriamer
Behind the Scenes

Mask of Light retailer trailer, via BricksofSteel
Trilogy demo reel
Antroz test animation
The Legend Reborn concept art and matte painting, by Pedro Ruiz Reyes
Journey to One test animation, via Signerdragon123

Bonus Content

Mask of Light Toonami extended ending, via lugia6

Trailers and Ads

Mask of Light Commercial, via Khalil the Retro Guy
Toonami Promo, via Kamil Drews
Toonami Intro, via PooperScooper9
Legends of Metru Nui Teaser, via BricksofSteel
Toonami Promo, via PooperScooper9
Web of Shadows Teaser, via Galphie
Journey to One episode trailers

Games

Cinematics

Bionicle: The Game cinematics (thanks JMMB!)

Development

Legend of Mata Nui concept animations
Bionicle Heroes Development Diaries and Q&As

Trailers and Ads

Quest for the Toa Powerpack Demo
Gameplay, via La Voix d'Ekimu
Matoran Adventures Gameplay
Bionicle: The Game LEGO Sports CD trailer, via jamessterv2
Live the Legend trailer, via La Voix d'Ekimu
Challenge trailer, via La Voix d'Ekimu
LEGO Interactive trailer
Toa Evolution
GBA Gameplay
Intel Pentium 4 commercial, via spunkytoast
Bionicle Heroes trailer 1, via BricksofSteel
commercial
Mask of Creation trailer
Mask of Control trailer

Legend of Mata Nui Playthrough (partial) by Deep Brick

Commercials

We had several of these in the archive already, but now you can watch them all in the best available quality, by year. Missing commercials have been added, from 2001 all the way to 2016. We are indebted to many different YouTube uploaders for preserving these, especially La Voix d'Ekimu and BricksofSteel. Full credit for the commercials' sourcing can be found on the credit page.
In addition, these videos have been uploaded in higher quality:
Promo CD Videos

The Legend
Backstory
Bohrok
Rahkshi Intro

Movies and Series

Trailers and Ads

Mask of Light Trailer
Legends of Metru Nui Trailer
Web of Shadows Trailer

Various commercials
It's still on the docket to add the bonus content from the DVDs and the cinematics from Bionicle Heroes at a later date, so stay tuned!