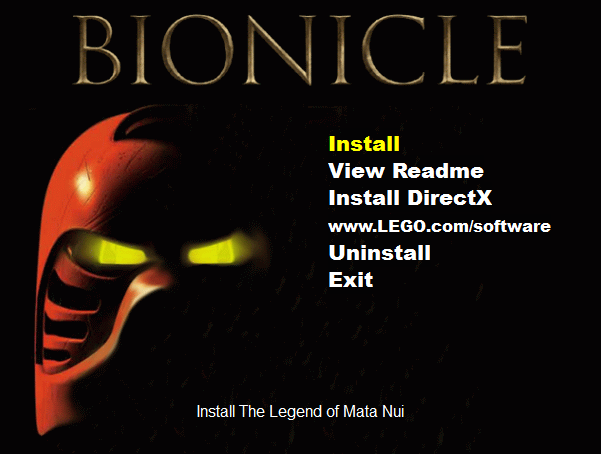 DOWNLOAD:
LEGO_Bionicle_PC_A0_006.zip (650.26 MB)
File Details:
Size:   650256860 bytes
MD5:    c63eafd64c57c4099c82e5fe9b0035f4
SHA1:   331c17ed748ee6744fd02a7dd2b5b6c8cba01cd2
SHA256: 6da4e88f5f77e2c3a1ed4e6f669f135f2d994bce7f7b7074c1eb0542504cdd85

Notes:
This version is Alpha v0.006 which appears to be from July 2001. It is not the same version which has been previously seen, which is believed to be a later build of the game, and there are some significant differences.
The game is not very stable, and not much is known about what hardware and OS versions it does or does not work with.
It has been suggested that Nvidia graphics cards work best, but it has been run on AMD and ATI graphics cards as well.
Operating systems it has been run on:

Windows 98
Windows 2000
Windows XP
Windows Vista (with Windows XP compatibility settings)
Windows 7 (with Windows XP compatibility settings)
Windows 8 (with Windows XP compatibility settings)
Windows 10 (with Windows XP compatibility settings, and the latest patch)

Intel and AMD processors have both worked, both 32bit and 64bit.
Only 1 person has yet reported success with virtual machines, a Windows XP VM on Windows 10 but no other details.
Game controls can be found under the help second in the pause menu in-level (press escape to open the pause menu).
Also be warned that there are some places in the game that will result in your progress being saved in a bad place, forcing you to restart the level unless you have a backup. Most-notable, this happens in Onua's level if you go through the left exit in the cave with Kapura. You can get a simple Python script you can use to make backups of your save file every time it changes here.
Install Notes:
Extract the ZIP file.
Run "autoplay.exe" then install (or "setup.exe" to launch the installer directly).
Go to the install directory, and set the compatibility mode for the executable to Windows XP.
Patches:
Current patch can be found here. Patch notes are included in the install directory, or in #lomn-info-and-announcements on The Beaverhouse Discord server. Additionally, a comprehensive known bugs list can be found on there, which is our current hub for continued development and bug fixing.
Graphics Issues:
No compatible Direct 3D device found, followed by black screen at menu:
Update your GPU drivers, and then try launching the game again
Levels render all-black:
Most if-not all people have trouble running with the default configuration. If the game levels do not reader or render very little, try editing the "Bionicle.ini" file.
Close the game if it is running, go to the install directory, and edit "Bionicle.ini". Find the line that says:
SvpRad=0
And replace it with:
SvpRad=1

Levels render all-white:
• Load into Onua's level, quit to the menu, and then load up the effected levels.
• Close the game if it is running, go to the install directory, and make sure the exe is set to run in compatibility mode for Windows XP.
•Edit "Bionicle.ini".  Find the line that says:
SvpOther=0
And replace it with:
SvpOther=2

Intro Videos Not Working:
Disable Videos Via Argument:
The game accepts a command line argument of "-nointro" to skip the videos.
You can edit the shortcut to add "-nointro" or run it by command line.
Disable Videos by Renaming the Video Files:
If the video files are moved or renamed, the game will just skip them.
Rename all the ".bik" files under "LEGO Media/LEGO Bionicle/Data/cinematics/".
Additional notes:
Accessing various areas of the game that otherwise can't be reached can now be achieved via the in-game debug menu. Make sure your Bionicle.ini file has the line:
cheat=LEGOTester
And then press the Delete key anywhere within a level. You can control the menu with Page Up and Page Down with the Home button to confirm a selection.
Issue Tracker:
For other in-game issues, we have an issue tracker on GitHub where you can find information on issues other people have and report your own.